Picture from Austin & Doo - Thank You!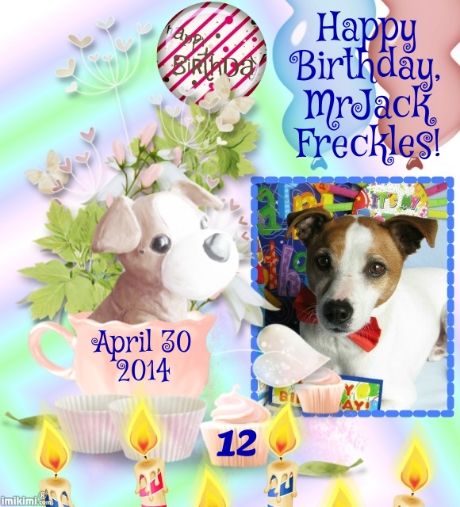 Picture from Cooper and his helpers - Thanks so much!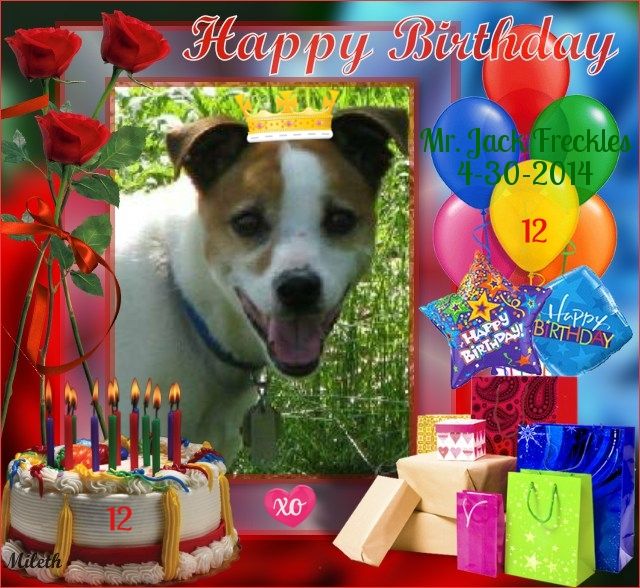 Picture from The Kirk Furs & Momma Shawna Thanks!
I got some special and yummy treats
| | | | | | |
| --- | --- | --- | --- | --- | --- |
| Then we went outside to check on things. | | | | | |
We have lots of Mayapples!
Closeup of Mayapples
Remains of burn pile...its a soggy wet mess now due to all of the rain we have had.
Then I said hello through the fence to Daisy. She didn't know it was a spaecial day fur me or she might have let growlmy make a nicer picture, BOL!
Daisy - My furend from next door.
My den built in 1907
See that bent drainpipe? The heavy snow did that...And growlmy is glad that pool is on the other side of our fence, its the neighbor's...Close to the pool you can see that our weeping cherry tree is starting to get some color in its branches...but its a long way from blooming.
Bleeding hearts are coming along!
These bleeding hearts are so pretty when they bloom, but its not fur long, after it gets hot they fade away...
You can see buds on these Bleeding Hearts!
Then we found the wild violas in bloom.
Violas
They are always so pretty and dainty!
Violas
Then I went back to treat munching...
Me on yard guard duty 4-30-2014






And that was my birthday/barkday! I did not get a cake, because I am allergic to most things that would go into a cake, so I didn't mind too much, cause I got all those extra yummy special treats. Not my usual fare fur sure. (Since I have gotten older I have become allergic to some foods, mostly wheat...makes me lick/chew my feet till they get raw, ouch! Growlmy says eliminating wheat is pretty easy, and there are lots of foods treats that are still suitable.)