Gotcha'd I was & Gotcha I am
Today is the date I dogabrate the fact that I was Gotcha'd. I was in a litter of pups, outside in a big pen and my doggy Mommy and Daddy were there, too, though not in the pen with us.
All of us were excited to see someone…peeps meant noms, or playtime, or release from that pen to romp in the grass.
Well, we all scrambled to climb out of the pen, but growlmy said to the man who was snoopervising us all, that she wanted a boy pup and a mostly white one at that. There were two boys in that litter of puppies, and only I had that whiteness desired by growlmy. I was also responding well to the temperment tests she was doing with me, I just thought she was doing a new kind of game, BOL!
So she took out some papers, and after the man put them in his pocket, she got some other larger papers from him. Growlmy said they had my birthday, my vet info and some other info on them. Alas no paper was forthcoming from AKC or UKC, BOL!!
Then she let boss-boy see me…and he said, YES!
I was his present you see, but it would be months before it was his birthday, So I was an early present, BOL! So that on his birthday I was all ready able to play and give good doggy licks and wiggles!
MJF ~ I Was A Teeny Dude! June 2002
I was teeny and only 2 1/2 lbs! OMD!
I fit in one hand, though even then I was a wiggly dude and one hand wasn't enough to properly contain me!
I had some little black spots on my pink schnooter, so since they looked like freckles, that became my call name. 'Mr Jack Freckles' came a bit later when growlmy & boss boy wanted me to be more…um… distinguished, BOL! Well of course! There was some gentleman who cuddled my head in his hands, looked me in the eye and said: You have a noble head.
Wow!
I got really good at using my licker, so boss boy said I was Sir Lick-a-Lot. Growlmy says it should have been Sir Bark-a-Lot! That fits with being noble right?!?
All the skin on my little doggy body was pale pink.
But as time went on, My schnooter got all black, and my skin started to have lots & lots of black spots, some lager splotches and some like little dots. Not unlike a Dalmatian. Since my furs cover the skin spots, I must be a disguised Dalmatian…or a Dalmatian under cover, BOL!!
All that was 12 years ago.
OMD! Time flies. Boss boy doesn't even live in my den anymore. He has an apartment about 26 miles from here, he graduated from college a little over a year ago, and has a full time job. I see him about every two weeks when he comes over on Growlmy's Sunday off work…presumably to eat Sunday Dinner, but of course its to see little old me!
He even has his own car to zoom around in!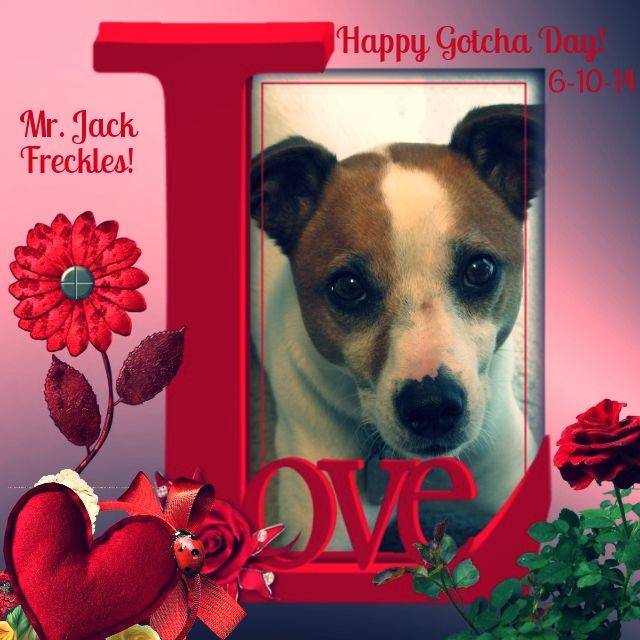 HAPPY GOTCHA DAY! Thanks Copper Allan and your whole furmily!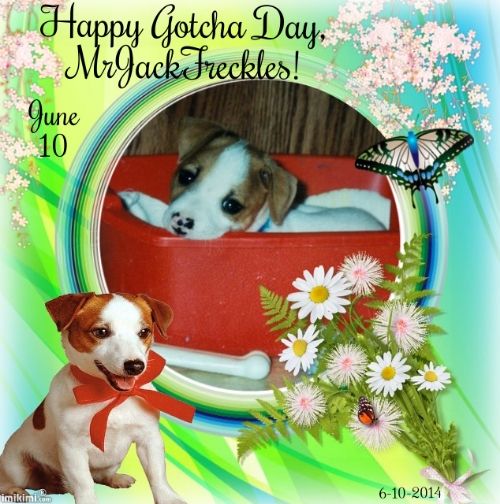 HAPPY GOTCHA DAY! Thanks Cooper and crew!
Great pictures pup pals!
I spent a lot of time helping growlmy mow the weeds down in the woodsy part of our yard. Pawppy with his new hip, can't do that section because the ground is quite soft and uneven back there, and there are so many trees & shrubs to maneuver that mower around. UGH. Growlmy was doing that for at least 3 hours...one third of an acre. And she also took down some rogue saplings. The weeds seem to be under fair control this way, its better than using chemicals she thinks, and so do the critters...her echinacea plants and red poppies have all been beheaded...by rabbits or groundhogs. OMD. They never are around when I am back there, and if I do not see them or hear them in their dens, I don't try to evict them. Maybe she needs to set live traps? If they are on the outside of our fence its hard for them to get under the fence because it is deeply buried...
Any other ideas?
Woofs!