Whoo-hoo!
Yesterday was my barkday/birthday, but I still got more comments, prezzies and messages after growlmy went to her own nest...
So of course I have to write all about it!
And thank woofs to all of my pawsome pals!!
I got a couple more pictures from Droopy and her Momma, and of course that means that Rascal helped, too, Woofs!!
A Birthday Picture from Droopy and Her Furmily
Another one from Droopy, too: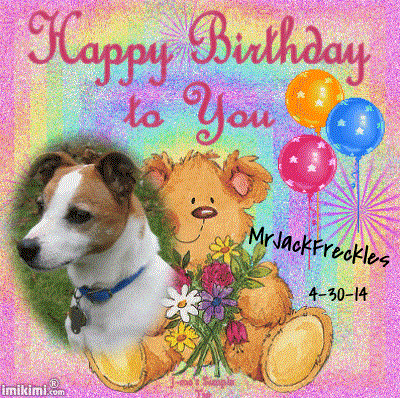 A Second Birthday Picture from Droopy and Her Furmily
They did a nice job!
I got to bark at that truck that comes by each week to steal the junk in the big bin at the curbside...its so noisy, it doesn't even pretend to be stealthful in its deeds...
I had to do some yard-guard duty last night, as the peeps went out to dinner, but even though it was my barkday, I had to stay home...shucks.
Oh well, I got more treats when they got back!
I gotta go now, ore barking work out there....WOOF!